Sometimes I just need an orgasm. I'm desperate for it. I'll get headaches if I've gone without an orgasm for a little bit. I'll feel a little down even. Out of sorts. I can't think, which when I really need to think, like when I'm writing, can be a pain in the ass.
So when I am freelancing and not at my regular vanilla job, I have the luxury being a drawer opening away from some powerful sexual pleasure. Can't you just use your hands like everyone else? Of course I do. But sometimes, you just need those good vibrations.
So I'll choose which vibe to use (usually, it's one I'm going to be reviewing. Watch this space) close the curtains, get the lube, knickers off and away we go.
Let me say: when I'm that pent up and finally letting the vibrator work its magic over my clitoris and labia (vibrations inside me I find quite uncomfortable and not pleasurable) it feels immense. Like that quenching drink of water when you're really thirsty, or that first breath of fresh air when you've been somewhere really stuffy.
That rush of the orgasm and the panting breaths, muffling my pleasure into the pillow as I use the vibrator between my legs, cowgirl style. Hands down, that's one of the best and most powerful ways for me to orgasm. And the tingly, electric feeling in the soles of my feet that come afterwards, like really pleasant pins and needles.
And then back to work I go. Phew!
Now if you'll excuse me, there's an orgasm with my name on it waiting for me…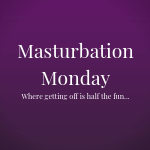 All my love,
Violet xx