CONTENT NOTE: Sexual fantasy theme.
There are four men around me. Two of them kneeling at my feet holding my ankles, the other two behind holding my wrists. I'm undressed from the waist down, top around my waist and my bra cups pulled down, exposing my breasts.
My nipples pucker under the cold breeze slithering through the small crack in the window, and the chocolate haired man with the bewitching, dark eyes at my ankles, smiles.
"Let's get started, shall we?"
Dark Eyes, as I like to call him, puts on a pair of white, latex gloves. They curl, stretch and snap around his strong hands. The man at my other ankle, a handsome blond with an angular jaw, passes him a bottle of lube from the table. He squeezes a liberal dollop on to the gloves, rubbing it between his fingers. He rests two fingers gently against my clit. The lube is still cold. I gasp.
'Aww, is that cold, baby?' he teases. I nod. He and the Handsome Blond grin wickedly at the other. The men behind me, the Businessman and the Silver Fox, ever so slightly, tighten their grip around my wrists.
'Well then, let's warm you up…'
The man behind me to my left, the Businessman, cups my cheek, tilting my face into a deep kiss. He guides my wrist through his short, dark hair as I feel Silver Fox's hands cup my breasts. He pinches my nipples and I moan into the Businessman's mouth. He breaks away.
'Mmm, she likes that. You want more?' he asks.
I nod. He pulls me into another kiss, more fervent than the last, slipping his tongue hungrily past my lips and exploring my mouth. I feel the pinching at my nipples again while our tongues touch and dance. Lips brand kisses up my right legs. Fingers caress my skin. All while Dark Eyes gently circles my clit, building a simmering heat between my thighs.
'Does that feel good, baby?' Dark Eyes asks. I moan. That's all answer they need.
'Of course she feels good.' Silver Fox chuckles.
'Look how fucking wet she is.' says Handsome Blond.
Dark Eyes runs his gloved fingers through my lips, teasing around my entrance.
'Do you want more? You want my fingers inside you?'
I squirm in the seat at his teasing, submitting to their restraining. It feels too good. I need more. I want more.
'Yes…'
'Yes please, what?' he says, resting a finger just at my entrance. I groan, trying to inch my hips closer, but he holds back.
'Now come on, baby…' He leans up and over me, lips inches from mine, holding my pleading gaze. 'Be nice now. You can't forget your manners now, can you? Yes please…?'
Silver Fox combs his fingers through my hair, kissing my temple. My chest rises and falls and I nod, desperate.
'Yes please, Sir.'
With that, Dark Eyes slides two fingers smoothly inside me. With a sated moan, my eyes glaze over. Dark Eyes grins as he watches.
'That's it…' He pecks my lips soft. 'That's a good girl.'
He twists his two fingers as he moves in and out. With his thumb he massages my clit, gentle then firm, firm then gentle. I wriggle under his experienced touch, trying to inch deeper on his fingers. I feel the men hold me tighter in place.
'Oh, she likes that!' Handsome Blond laughs.
'Look at her face,' the Silver Fox says. 'She fucking loves it!'
My head lolls back against the seat as my finds my g-spot, curving his fingers up and massaging in circles. I can barely make a sound, except for a guttural moan at the back of my throat. I rock my hips against his hand as he leans down to gently kiss my clit.
Slowly he circles his tongue and kisses. My voice shudders. My hands tighten into fists, aching to rake into Dark Eyes' hair. The Businessman squeezes one of my breasts and the Handsome Blond rains kisses down on my stomach. The Silver Fox cups my jaw, turning my face to him.
'Come here, gorgeous…'
He presses his lips against mine, trailing feather light kisses along my jaw. My hand, firmly restrained in his, finds its way into his stylish, coifed salt and pepper hair. His neatly trimmed beard brushes against my cheek as he takes my lips.
'Open your mouth…' he whispers against my lips. 'Open it…'
I obey, letting his tongue run along the seam of my lips and effortlessly slip into my mouth. I like all of them, but have a particular soft spot forming for Silver Fox, and the way he kisses me with his soft, experienced lips. His weathered, free hand trails down between breasts, past Handsome Blond and the Businessman who are both now sucking and flicking each nipple with their tongues.
My other hand is entwined in the Businessman's hair and he cradles my hand in his, laying soft kisses on my palm. Dark Eyes keeps circling around my g-spot in a steady rhythm, gradually letting the pleasure between my legs build. He places another light kiss on my clit and squirm.
Handsome Blond's arm is around my leg and sucks my nipple harder with a low growl. I look down and see he, and the Businessman have their trousers undone and are jerking themselves off. They've completely abandoned keeping me in place. The Businessman is still kissing, practically worshipping my palm, my other hand stroking the Silver Fox's hair and over his beard.
'I love your soft body…' Silver Fox murmurs in my ear, our cheeks touching as I watch him trail the tips of his fingers trail lower, 'This gorgeous tummy…'
He moves lower, reaching to where Dark Eyes is massaging my clit.
'Mind if I cut in?' he asks. Dark Eyes laughs.
'Go ahead.'
With that, Silver Fox starts swirling his fingers around my clit…
*
To be continued…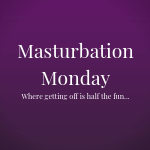 #FantasySmutFriday
*If you like what I do and want to support me and my blog, please consider buying my a coffee 🙂 Thank you! Xx