CONTENT NOTE: Sexual fantasy theme. This one contains threesome fantasies, specifically MFM. This post also contains affiliate links. 
My head spins as I suck hungrily on the soft, silicone dildo suctioned to the wall.
He's taking me roughly from behind, slamming his cock into my soaking pussy with every bit of strength he can muster. The sight of me with another cock in my mouth while he fucks me excites him so much I can hearing his groans and growls above the roaring in my ears.
I've never felt so deep in a submissive headspace before. Fucked doggy style does it wonderfully, but doing doggy with a cock in my mouth as well? I imagine it's another man, cupping his hands in my hair and gently face fucking me while he tells my boyfriend just how good I am at using my mouth. I imagine the words above my muffled moans.
'See? I told you she was good.'
'Fuck yeah…You want me to fuck your mouth faster, baby?'
'Trust me, she can take it.' My boyfriend laughs. The man fucks my mouth, still gentle but a little faster. I try to take him to the back of my throat and he gasps, shuddering and scrunching my hair in his fist. My boyfriend spanks my ass.
'Yeah? You like taking his cock?' he says.
I moan and nod, sucking more greedily and I feel my boyfriend's hips move even harder, pounding so hard the skin on my ass is rippling up to my hips. He spanks it again, growling his appreciation by digging his fingers into my hips.
'Get on your back.' He flips me on to my back and starts fucking me missionary. I work my clit until my orgasms are rippling through my body. My breasts bounce against his rhythm and he grabs them, sucking on my nipples.
The man is jerking off behind me, enjoying what he's watching. He's close and kneels over my chest as my boyfriend kneels up and takes me by the hips.
'Fuck, I'm gonna come…' he moans, jerking his cock over my breasts, 'Can I come on your tits, baby?'
I nod in between another orgasm dancing through my limbs. My boyfriend leans down and kisses me. I savour his entwining with mine and every insatiable thrust as his moans grow gradually louder, morphing into harsh, delicious groans. He's coming inside me, sending another blissful wave between my legs. He straightens up, losing himself in the feeling and I clutch at his strong forearms. God, he is so gorgeous when he comes.
The man jerking his beautiful cock over my breasts starts whimpering, working the tip of his cock. Hearing men come will never be something I tire of. It's beautiful. I lose myself in the sounds of both men's pleasure, feeling my boyfriend come inside me, and feeling the man's release spill on to my chest.
Fluttering my eyes open, I smile up at my spent boyfriend, who chuckles in a post orgasmic haze. I look up to the dildo still stuck against the wall and a naughty smile slithers over my swollen lips. We definitely need to do this again sometime.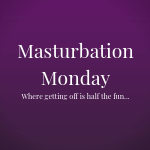 * Picture – Pinterest